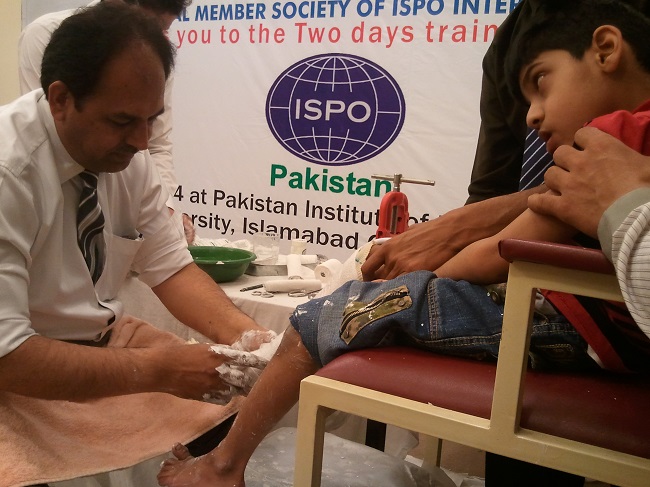 Two days training workshop on "Orthotic management of Cerebral Palsy Child" was held at Pakistan Institute of Rehabilitation Sciences, ISRA University Islamabad Campus, Islamabad, on 3rd & 4th may 2014. The training was planned by ISPO Pakistan, the national member society of International Society of Prosthetics & Orthotics (ISPO).
The Objectives of the training were
To train the Professionals & Students of Orthotics Prosthetics / Physiotherapy for Orthotic management of CP Child in term of Patient assessment, Orthotic designs, Orthotic fabrication and a team approach to CP child treatment.

To integrate the concept of CP Child management with Multi disciplinary Rehabilitation team approach.

Promotion of quality culture and awareness among the Orthotits/ Prosthetists,Physiotherapists, O&P Techs and other members of Rehabilitation team.
Training was started with welcome speech by Mr. Zia Ur Rehman, President ISPO Pakistan. He briefed about ISPO Pakistan & thanked PIRS for his support to organize the event. Physiotherapists from Hi 5 Development Centre, Mumbai, India offered lectures via video link. The training was carried out by two resource persons at PIRS.
·         Mrs. Frizzel ,Charted Physiotherapist from UK &
·         Mr. Mazhar Hussain Tazagrami, MS O&P (Germany)
has facilitated the participants with lectures and practical demonstration regarding assessment & Orthotic prescription of Cerebral Palsy Child.
Training was attended by 120 participants from all over the country. Students from PIPOS Peshawar, Dow university of Health Sciences Karachi, & Rawalpindi medical College Rawalpindi also attended in groups. Orthotists Prosthetists, Occupational therapist, & Physiotherapists from different organizations of Balouchistan, Sindh, AJ&K, Khyber Pakhtoon Khawa  & Punjab have actively participated in practical and interactive sessions. Participants have been introduced and shown the Training Section & Practical area of Orthotics Prosthetics Department, PIRS.
Dr. Farrukh Seir , Executive Director PIRS  ,honored the concluding session of the Workshop. In his address, He emphasized the importance of Capacity building & training of allied health professionals. He also told that students must learn from every possible opportunity to enhance their professional knowledge & skills. He praised, the efforts of ISPO Pakistan & for selecting PIRS to organize the workshop on this important issue and also ensure for every possible future support to ISPO Pakistan in this regard.  He also presented the shields to the resource persons, President ISPO Pakistan, Organizers and distributed certificates among the focal persons. Mrs. Frizzel , expressed his gratitude to ISPO Pakistan & PIRS , for providing her the opportunity to participate in this Workshop.
Mr. Irtaza kazmi , the Information  Secretary ISPO Pakistan & Lecturer Faculty of Orthotics Prosthetics , PIRS,  while presenting a brief overview of the workshop informed that 120 participants, including Faculty members, professionals, students participated in the workshop. He also highlighted the active role of students of Diploma in Orthotics Proshetics , PIRS. At the end Mr. Irtaza Kazmi, offered a vote of thanks.
Photo Gallery