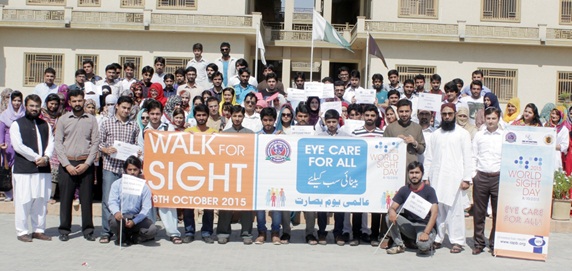 Pakistan institute of Rehabilitation sciences www.pirs.edu.pk celebrated WSD 15 to create awareness amongst various segments of community to create awareness about the importance of vision preservation, early detection, diagnosis and timely treatment to prevent sight threatening conditions..PIRS arranged the following activities on WSD2015:
1. Community Eye Campus
Community free eye camp was arranged under the Banner of WSD 15 theme "Eye Care for All" on 6th Oct 2015 at Village Kalyah, Nilore, Islamabad.
School Vision Screening was conducted at HDF-Maria Helena Model School, Village: Kalyah,
Nilore, Islamabad on 5th October 2015. Human Development Foundation (HDF) supported
us in facilitation to carry out these activities.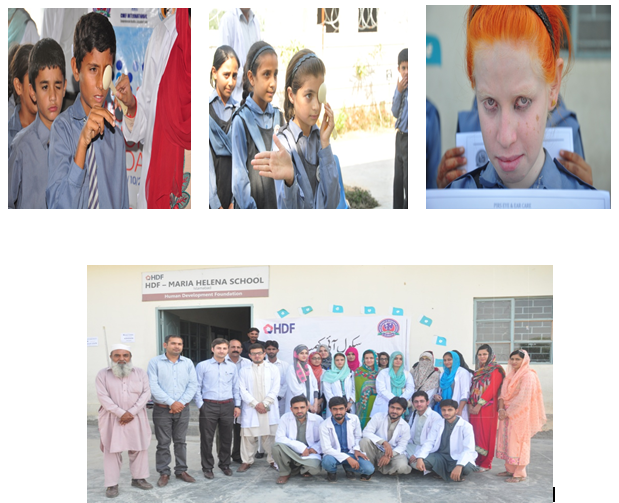 3. World Sight Day Awareness Seminar was arranged at Hasnain Auditorium of Isra University Islamabad Campus for the students, to raise awareness about the importance of vision preservation on 8th October 2015. In seminar presentations were made by experts and student.

Students Speech Competition under the themes of Vision 2020, Role of Optometrist in Society, Importance of eyes care was also organized . 10 students from different semesters participated in speech competition; Miss Sana Sohail (student of 7th Semester) was awarded with 1st position.

Students Quiz and poster competition and vision awareness walk were organized by students and faculty member along with local community. The themes selected were Blindness & Visual Impairment, World Sight Day, Vision 2020, Ocular Diseases.
Dr farrukhseir
Pakistan Institute of Rehabilitation Sciences Islamabad