"Childrens of today are Adults of tomorrow"
Introduction:
The World Health Organization (WHO) has recently estimated that 153 million people worldwide are visually impaired from uncorrected refractive errors, 8 million of whom are blind. The report suggests that 12 million children of school going age (5-15 years) are visually impaired from uncorrected refractive errors.
Due to the burden of visual disabilities and a public health problem in Pakistan, Department of Vision Sciences at Pakistan Institute of Rehabilitation Sciences, ISRA University Islamabad initiate a program to fight against avoidable blindness and thus lead to the establishment of School Eye Health Program to reach the children in need of refractive services at school level and train the teacher in basic eye health education to promote and transfer better eye health messages to the next generation.
Goal
To improve quality of life and education capabilities by eliminating blindness and visual disability particularly due to uncorrected refractive errors in school children.
Key Objectives of a School Eye Health Program are to:
- Identify students with vision problems through:
- Selected vision screening procedures
- Establish mechanism for delivery of high quality refractive services linked to cost effective and appropriate optical services
- Establish follow-up procedures to assist identified students in receiving appropriate care.
- Inform teachers and parents of students with vision problems about recommendations from eye care personnel regarding the most appropriate management and classroom environment.
Target Populations
The priority age groups for screening are the children at the primary and secondary level of age 5 to 16 years in a specified area where school eye health screening was indicated. In addition, any other child with visible eye defects or disease; like a) squint, b) white pupil, c) nystagmus, d) abnormal head or face turn, e) red eyes, f ) inability to copy from the black board, g) complaint of chronic headache or lack of concentration was screened and provided/referred to services.
Visual impairment
- For children up to 15 years of age, visual impairment is defined as uncorrected visual acuity less than 6/12 (20/40) in the better eye.
- For people over 15 years of age, visual impairment is defined as uncorrected visual acuity less than 6/18 (20/60) in the better eye.
- Low Vision is defined as best corrected visual acuity of less than 6/18 to 3/60 (20/60).
Generalized Flow chart of activities:
- Map location of primary and secondary schools (formal and informal sectors).
- Make contact with relevant bodies and authorities in education and health.
- Identify teachers to be trained.
- Train teachers preferably Science Teachers.
- Screening in schools.
- Refraction in schools of the children who fail in the class / having visual acuity equal to or less than 6/12 in the better eye.
- Referral of children whose vision cannot be improved to PIRS, with provision of low vision care for those who need it.
- Referral of those children who have some ocular pathology like cataract, corneal opacity, ptosis etc to Al-Nafees Hospital situated with in the premises of ISRA University.
- Provide spectacles that are high quality, affordable and comfortable: it is essential to ensure that children needing spectacles receive them and how this is done will vary from location to location depending on local resources.
- Ensure quality control procedures are in place.
- Establish effective management including information management systems.
- Monitor and evaluate the program.
Data Analysis
Islamabad Model School for Boys, Jhangi Syedan, Farash Town, Islamabad.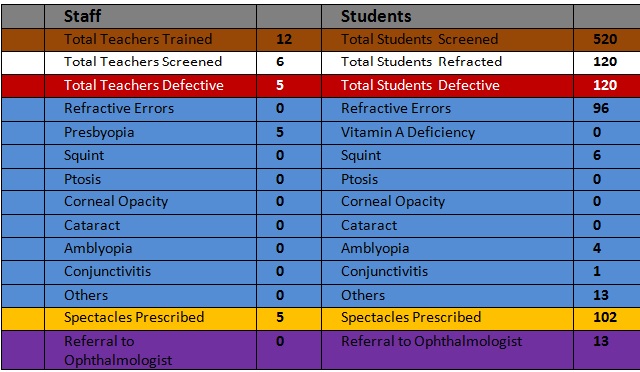 Success Story:
Mr. Zeeshan Khaliq, of 12 years age, Resident of Jhangi Syedan, was screened as notified by the trained teacher in Islamabad Model School for Boys, Jhangi Syedan with severe disappointment having complaints of wavy vision and acute headache since 6 months while reading. According to his teacher that Mr. Zeeshan has very poor class performance and not punctual to school as well.
Visual Acuity: Un-Aided: Rt – 6/60, Lt – 6/60, Visual Acuity Aided: Rt – 6/18p, Lt – 6/18p.
On Refraction it was diagnosed as Moderate Myopia of –3.25DS with a Visual Acuity of 6/6 in Both Eyes.
It was found that Mr. Zeeshan was wearing ill-fitted spectacle prescription of -4.00DS in Both Eyes.
Management includes Accurate Refraction with proper spectacle dispensing.
Prognosis: Now, Mr. Zeeshan enjoying a cheerful life, and by receiving great satisfaction, he is now not only performing well in their class but punctual as well.
PHOTOGALLERY
Compiled by:
Muhammad Qasim &
Muhammad Faisal
Submitted to:
Dr. Farrukh Seir
Executive Director
Pakistan Institute of Rehabilitation Sciences (PIRS) ISRA University Islamabad
Lehtrar Road, Farash Town II, Islamabad