The fees will be charged for each semester as per the following schedule: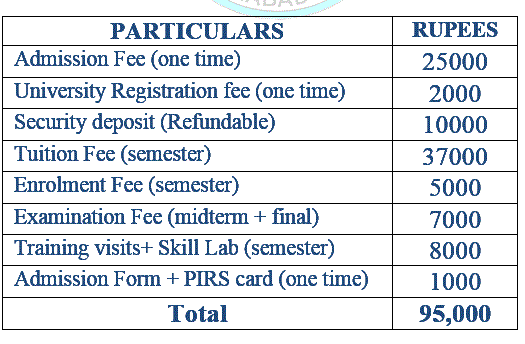 Scholarship/Financial Help
Scholarship/Financial Help are awarded on merit for students of backward areas with low family financial income.
Fee Structure for Foreign Students:
Tuition fee inclusive of all Charges: US$ 2500.00 per annum

Boarding and lodging: US$ 1500.00 per annum

Total: US$ 4,000.00 Per Annum.
PAYMENT OF THE FEES
All students selected for admission are required to deposit all fees and the Security Deposit within the prescribed dates failing which their admission will be cancelled and the seat(s) thus vacated will be allotted to the candidate next on merit.
However, the students promoted to next semesters are required to deposit all fees at least seven days prior to the start of classes of all semesters. Failure to deposit the fees within the prescribed dates will lead to cancellation of admission.
The fees / security dues shall be deposited at the designated Bank and Account Number.
REFUND OF FEES
The fees once deposited shall not be refunded whether it is a case of discontinuation of studies by a student or cancellation of admission for any reason or a result of disciplinary action against a student by the Pakistan Institute of Rehabilitation Sciences / Isra University Islamabad Campus, Islamabad.
FEE FOR REPEATING / REAPPEARING IN THE COURSE(S)
Any student reappearing in a course for the purpose of improving the Grade will be required to pay a fee of Rs. 3000/- per course.