All academic cum training programs will be carried out under the semester system, with two semesters in an academic year as the following:
Spring Semester: January to June

Fall Semester:    September to January
The students' academic cum training activities will be regularly assessed on the bases of the following criteria:


Based on the percentage of marks obtained in overall semester evaluations, the students will be awarded grades as the following: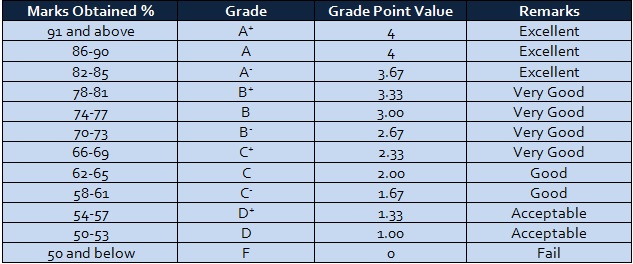 GRADE POINT AVERAGE (GPA)
The academic standing of a student at the end of a semester is referred as Grade Point Average (GPA). This is calculated by dividing the total number of earned grade points values by the total number of the credits registered in the semester.
For a student to remain in a good academic standing, he/she has to earn a minimum GPA of 2.00.
ACADEMIC PROBATION
A student may be placed on academic probation at the end of a semester in case his/her GPA falls below 2.00.
A student who fails to maintain the minimum required GPA of 2.00 after probation will be dismissed and his/her name will be struck off the rolls of the Pakistan Institute of Rehabilitation Sciences (PIRS) / Isra University Islamabad Campus for the concerned program of studies.
ATTENDANCE REQUIREMENT
All students of the PIRS are required to maintain a minimum of 75% of attendance in their theory classes, laboratories and the clinical work. Any student who fails to maintain 75% attendance record in theory classes / laboratories / clinical work will be liable for dismissal.
AWARD OF DEGREE
A student will qualify for the award of a degree / certificate after successful completion of the relevant courses / clinical work and obtaining a minimum GPA of 2.00.