BS in Occupational Rehabilitative Sciences (Occupational Therapy) – Four Year Degree Program.
BSc. (Associate Degree) in Occupational Rehabilitative Sciences– Two Year Degree Program.
Occupational Rehabilitation is the science and practices of returning injured workers to a level of work activity that is appropriate to their functional and cognitive capacity, both of which are influenced by the severity of a worker's injuries.
Occupational Therapist
Occupational therapy is about helping people do the day-to-day tasks that occupy their time, sustain themselves, and enable them to contribute to the wider community. It is these opportunities to "do" that occupational therapy provides that prove important and meaningful to the health of people.
Occupational therapists (OTs) help people of all ages to improve their ability to perform tasks in their daily living and working environments. They work with individuals who have conditions that are mentally, physically, developmentally, socially or emotionally disabling.
They also help them to develop, recover, or maintain daily living and work skills. Occupational therapists help clients not only to improve their basic motor functions and reasoning abilities, but also to compensate for permanent loss of function.
Occupational therapists assist clients in performing activities of all types, ranging from using a computer to caring for daily needs such as dressing, cooking, and eating. Physical exercises may be used to increase strength and dexterity, while other activities may be chosen to improve visual acuity and the ability to discern patterns.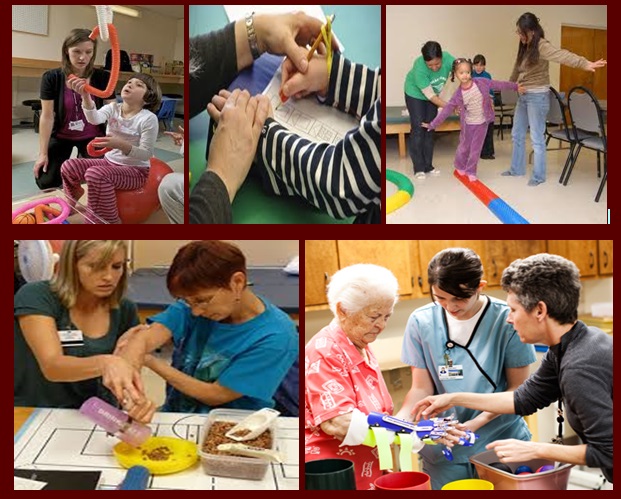 Occupational Therapist treats conditions ranging from soft tissue injuries such as Tennis Elbows to nerve neuropathies such as Cubital Tunnel Syndrome/ Carpal Tunnel Syndrome. Treatment modalities such as orthosis/splints, soft braces and education are some of the common treatment tool that an occupational therapist will use during treatment.
Occupational Therapist also plays a significant role in liaising with limb Surgeon / Orthopedic Surgeon and the patient's employers or case managers in providing the best client centered rehabilitation program.
The Occupational Therapy curriculum emphasizes occupation and occupational performance in daily life, community rehabilitation, client-centered and evidence based practice, clinical reasoning, ethics, teamwork and professionalism as essential components for the development of a competent and problem-solving occupational therapist.
Career Opportunities
Private practice / Self Employment

Hospital Based Practices (Private / Public Sector)

Rehabilitation facilities

Specialty clinics and home health settings

Teaching and Training at the Colleges and universities to prepare future professionals