Eye Health Hero: Saima Ghufran
Saima Ghufran is a gold medalist graduate optometrist, teaching undergraduate optometrists for the last 10 years. Her passion for teaching makes her a change maker in her student's lives. She has taught more than 300 optometry students in her professional career, who are working all over the country in the eye care sector. She not only guides her students in their theoretical and practical work but she is also a mentor in their career building, higher studies and research work. She takes them for their basics in theory in the first semester to high quality technical skills in their last semester. Her excellent clinical skills in refraction and low vision makes her the "most wanted teacher" among concerned semesters.
A mother of 4, Saima keeps her family and professional life balanced along with her own professional development. She has done Optometry Faculty Development Initiative online course conducted by Brien Holden Vision Institute. After that she has introduced many innovative ideas and teaching methods that are not only appreciated by the institution but students also found them interesting, helpful and user friendly in their course work.
Saima has introduced new ways of conducting exams/tests. She believes in getting her students feedback about her work and is ready to discuss with her students. That is one reason why students are most comfortable with her. She has arranged a number of workshops, seminars and hands on training for her students. She is always an eloquent speaker, not only on clinical topics but also on social inclusion of visually impaired.
Saima started her career in Optometry teaching in times where where less was known about optometry among young females, and now almost 65% of our students are females who see their future bright and clear in optometry.
"I enjoy my role as a teacher in optometry. I think this is a great way of bringing change in someone's career and life. When I see my students on job in clinics, NGO, hospital etc, I feel proud of them and myself. I also expect that this journey should go on. I believe in continuous professional development of optometrists and especially those involved in teaching and training."
– Saima Ghufran
Eye Health Hero: Matiullah Khan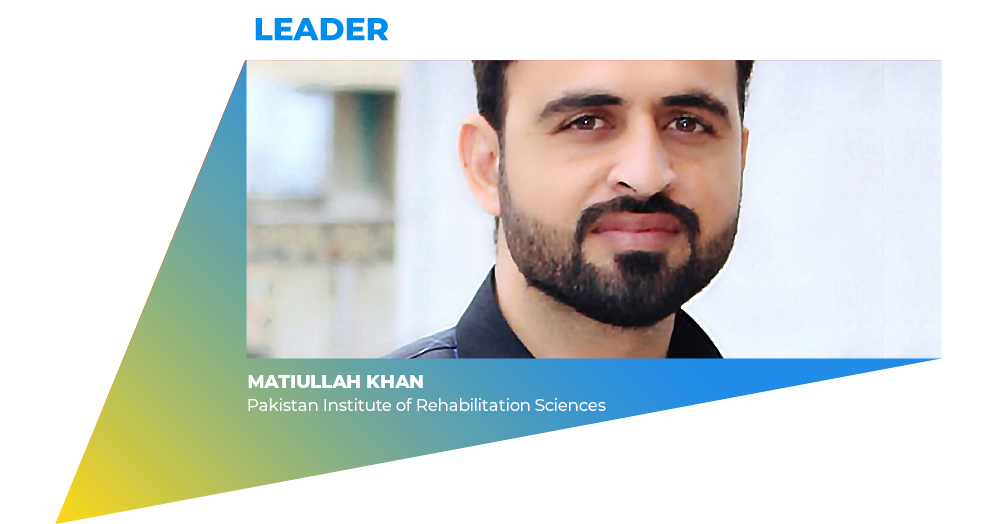 Matiullah Khan is a young and hard working optometrist, working as lecturer/faculty at Pakistan Institute of Rehabilitation Sciences (PIRS). Equally popular among peers and students, Matiullah Khan is equipped with excellent clinical, teaching and communication skills. His heart is in the community ! He regularly arranges screening camps in areas where people cannot either afford or reach quality eye care services. He has managed to reach out to many people in need of eye care services during the covid-19 pandemic. He is part of a school screening as well and constantly provides screening services to public sector school children, their teaching and non-teaching staff, getting philanthropists help and provide them free of cost spectacles. He has also conducted school screening in slum areas in 2019. Along with his responsibilities at institute, he runs PIRS Primary Eye Care Centre and provide quality eye care services to community thus remodeling the primary eye care and leaving no one behind. His patients from community include children, elderly, women, transgenders and above all some displaced refugees as well.
Matiullah Khan is a keen learner and keeps developing his own career as well as an optometrist. He has recently completed "Optometry Faculty Development Initiative" (OFDI) course conducted by Brien Holden Vision Foundation. Currently he is enrolled in MPhil Optometry. He is also part of a research study on " Association between uncorrected refractive errors and academic performance of school children".He is a a disciplined teacher, who guides his optometry students in basics, refraction, low vision, optics, orthoptics, diagnostics, dispensing etc. He also supervises undergraduate students with their research projects. He has a publication to his credit, in 2018, titled "Association of convergence insufficiency in myopia". Matiullah is considered as an asset, his honesty and dedication to his mission is certainly making a difference in the lives of his students and his patients.
"I, Matiullah Khan, not only love and enjoy my role as an optometrist, teacher, mentor and community worker but also these roles are a driving force for me to do more, to learn more, to serve more, to provide eye care services to people who cannot afford. Being from a rural background, I feel more for people living in areas where eye care services are hard to find. That is one reason that I enjoy my community work, sitting with people and listening to their problems, counselling them, providing them health education, prescribing spectacles etc.

This Primary eye health centre and optical shop is a ray of hope for people especially elderly and women of this semi-urban/rural community. They feel confident in coming to PECC and getting advice or spectacles.

When I graduated as an optometrist, I was keen about having my own small clinic but when I realized the difficulties of poor people in screening camps, I turned more towards community work.

Research is also my passion and it opened many horizons to me. I believe that high quality eye services is the right of all human beings and no one should be deprived of this right just because they cannot afford."
– Matiullah Khan